The Beloved Community
by Captain Charles Roberts

<![if !vml]>
<![endif]>

Text - Jeremiah 29:1-7, 11

The historical setting here is Babylon, the great evil nation, teeming with foreign gods. After much defending in vain, the people of Israel were captured and sent to this foreign land in 722 BC. They were teased and taunted, tortured and tormented. They were isolated and indentured as slaves to the new great political power. The once all-powerful nation of ISR has slid down the slope of compromise until they have become a byword.

We get this glimpse of the Babylonian Captivity through the recording of the nation's pathos:

By the rivers of Babylon we sat and wept

when we remembered Zion.

There on the poplars

we hung our harps,

for there our captors asked us for songs,

our tormentors demanded songs of joy;

they said, "Sing us one of the songs of Zion!"

How can we sing the songs of the Lord

while in a foreign land? (Psalm 137:1-4)

Previously the prophet had declared a time of mourning and repentance, but now Jeremiah takes a different approach; he declares a love revolution. To change the city now means to bless the city.

But we serve a God who turns tragedy into triumph, and makes true to His promise: "Yes, there will be an abundance of flowers and singing and joy! The deserts will become as green as the mountains of Lebanon, as lovely as Mount Carmel or the plain of Sharon. There the LORD will display his glory, the splendor of our God." (Isaiah 35:2) Just as Elijah saw a cloud the sign of a man's hand during drought, in the midst of despair, we see a Beautiful City.

"One of the first steps in turning tragedy into triumph is to accept the situation courageously and put ourselves into the hands of a loving God, who makes no mistakes. "

Wiersbe, W. W. (1996). Be Decisive (pp. 123–124). Wheaton, IL: Victor Books.

Jeremiah gives a set of instructions that seem to confound what he has said before.

But the prophet is the weather vane, he knows which way the wind of the Spirit is blowing.

<![if !vml]>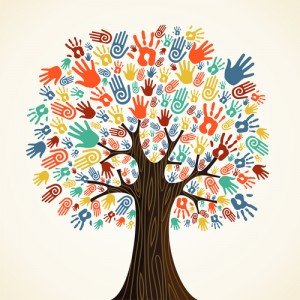 <![endif]>
Because of the goodness of God and the impending release from exile those in captivity, exiles can again make plans; previously Jeremiah refrains from marriage, because the refugees were on alert, and normal activities were a distraction for paying full attention. But now, the prophet is instructing the people to marry, to multiply, to see the peace and prosperity - we can again make plans, because the Lord has plans for us, plans to help us and not to harm us, plans to give us a hope and a future. The phrase translated bring you back from captivity is richer than this suggests, implying the full restoration of life in all its dimensions.
Build. Plant. Marry. Habitate. Multiply. Bless. Prosper. In the city.
Do and be the things that makes us to become the change we desire.
The Beautiful Community is a well-watered garden, in the midst of the deserted of the generations, to whom we have been called.
The Beautiful Community (or Beloved Community):
For Dr. King, The Beloved Community was not a lofty utopian goal to be confused with the rapturous image of the Peaceable Kingdom, in which lions and lambs coexist in idyllic harmony. Rather, The Beloved Community was for him a realistic, achievable goal that could be attained by a critical mass of people committed to and trained in the philosophy and methods of nonviolence.
Dr. King's Beloved Community is a global vision, in which all people can share in the wealth of the earth. In the Beloved Community, poverty, hunger and homelessness will not be tolerated because international standards of human decency will not allow it. Racism and all forms of discrimination, bigotry and prejudice will be replaced by an all-inclusive spirit of sisterhood and brotherhood. In the Beloved Community, international disputes will be resolved by peaceful conflict-resolution and reconciliation of adversaries, instead of military power. Love and trust will triumph over fear and hatred. Peace with justice will prevail over war and military conflict.
Dr. King's Beloved Community was not devoid of interpersonal, group or international conflict. Instead he recognized that conflict was an inevitable part of human experience. But he believed that conflicts could be resolved peacefully and adversaries could be reconciled through a mutual, determined commitment to nonviolence. No conflict, he believed, need erupt in violence. And all conflicts in The Beloved Community should end with reconciliation of adversaries cooperating together in a spirit of friendship and goodwill.
As early as 1956, Dr. King spoke of The Beloved Community as the end goal of nonviolent boycotts. As he said in a speech at a victory rally following the announcement of a favorable U.S. Supreme Court Decision desegregating the seats on Montgomery's busses, "the end is reconciliation; the end is redemption; the end is the creation of the Beloved Community. It is this type of spirit and this type of love that can transform opponents into friends. It is this type of understanding goodwill that will transform the deep gloom of the old age into the exuberant gladness of the new age. It is this love which will bring about miracles in the hearts of men."
An ardent student of the teachings of Mohandas K. Gandhi, Dr. King was much impressed with the Mahatma's befriending of his adversaries, most of whom professed profound admiration for Gandhi's courage and intellect. Dr. King believed that the age-old tradition of hating one's opponents was not only immoral, but bad strategy which perpetuated the cycle of revenge and retaliation. Only nonviolence, he believed, had the power to break the cycle of retributive violence and create lasting peace through reconciliation.
In a 1957 speech, Birth of A New Nation, Dr. King said, "The aftermath of nonviolence is the creation of the beloved community. The aftermath of nonviolence is redemption. The aftermath of nonviolence is reconciliation. The aftermath of violence is emptiness and bitterness." A year later, in his first book Stride Toward Freedom, Dr. King reiterated the importance of nonviolence in attaining The Beloved Community. In other words, our ultimate goal is integration, which is genuine inter-group and inter-personal living. Only through nonviolence can this goal be attained, for the aftermath of nonviolence is reconciliation and the creation of the Beloved Community.
"The gospel of Jesus is good news in the city. Sin, death and evil have been defeated by Jesus through the cross and the empty tomb. Jesus is not just defeating. He is recreating, making all things new. This is good news in the cities of unfulfilled promise, hope deferred, and expectation of complete restoration. This good news is what every mayoral candidate promises but only Jesus delivers: not only a new city, but a new humanity. This gospel is power of God unto salvation, and offers redemption, restoration, and renewal.
The city is the metro/polis - the world-centre: cultural, relational, industry & art, neighborhood & institutions merge in a grand symphony of progress. Cities are also the place where the downtrodden are abandoned, where alienation has reigned supreme.
But we serve a High Priest, who is not unaware of our weaknesses, who constantly intercedes for us at the right hand of God. We serve One who knows suffering well, yet knows what victory looks like. His death paid our bail, and the empty tomb broke us out of jail, so that we can live in complete freedom, complete liberty, the salvation of our souls.
God loves cities. Because of Christ, cities are places of hope. We hold this hope in Christ as an anchor of the soul. Hope, true hope in Christ keeps us buoyant in the midst of rogue waves of cultural change, navigating our souls to praise through the pain, persevere, and be the "more than conquerors through Him who loves us."
Without the truths of Christ's life, death and resurrection infused in the life of the city, the metropolis is destined to drift into greater and greater desolation, while the rich become richer and the poor become poorer.
Because of what Jesus has done, we are a third-day people, recipients of the resurrection, and possessed by the Holy Spirit, who makes into an Isaiah 61 people.
1.Redemption - (vs. consumeristic)
2.Restoration - (vs. individualistic)
3.Renewal - (vs. materialistic)
Yet, as the church, as the repository of the faith once for all given to the saints, we have to confront and bring down our own idols - idols of N. American culture, idols hiding in our institutions, idols ensconced in fear; because for many seeking the peace and prosperity of the city can be viewed as friendship with the world, which is enmity with God. We become afraid about losing our counter-cultural edge; guess what sports fans, we already have!
But in seeking to bless the city, to bring light to the metropolis, we partner on big-ticket items that the city fathers care about, those that everyone cares about, without losing our witness to the supremacy of Christ, then the gospel that is displayed is rendered as relevant. If you don't respect the culture, they will never hear the message of the Gospel. (Jim Knaggs). Culture eats strategy for breakfast, so culture must be exegeted much like the Scriptures, using hermenuetical principles.
Internally, the Beautiful Community is a tribe of Jesus-followers who gather around worship, Word, care and mission, building upon the apostles and prophets with the finished work of Jesus Christ as the cornerstone of our faith.
Externally, the Beautiful Community radiates the glory of Jesus, adoring Him, and imitating His acts in the earth.
1. Living with radical abandonment for His glory (Luke 14:33; Luke 9; Matthew 10)
2. Joyful dependence upon His grace (John 15; Matthew 4; Ephesians 1)
3. Faithful adherence to Jesus; a reflexive obedience, fruit of a spiritual formation and holy habits ("follow me," "come and see," go and tell.")
4. Lives with urgent obedience to His mission (Matthew 28; Ephesians 2:8-10; etc.)
<![if !vml]>

<![endif]>
John Wesley, who founded the Methodist movement, wrote, "One of the principle rules of religion is to lose no occasion of serving God. And since he is invisible to our eyes, we are to serve him in our neighbor; which he receives as if done to himself in person, standing visibly before us."
To become this Beautiful Community, we all need a return to first things, and much as Micah had done, He has shown you, O mortal, what is good. And what does the Lord require of you? To act justly and to love mercy and to walk humbly[a] with your God"
Love God, love people. The rest is wallpaper. This is the essence of the Beautiful Community. And now, we must appeal to God, Who alone makes things beautiful, in His time.
If not now, when? If not who, you?
"Holy One, you have called us out of darkness into Your wonderful Light, the Light of Life. You call us out of captivity into the freedom of your beloved community. As we pass through the wilderness spaces of our lives, grant us ears to hear you, eyes to see you, and hearts that ache for you, that we might not turn away from the brothers and sisters who help us remember who we are. Amen."