What Makes Me Missionally Hopeful?
by Captain Jenny Collings
Corps Officer and Director of Community Ministries
Hamilton City Salvation Army, New Zealand

<![if !vml]>
<![endif]>I recently broke out of my comfort zone in a big way. I completed a 6km mud run with my husband Marcus. We trudged through mud pits and commando crawled under barbed wire and electrical fencing. We climbed up slippery hills on our hands and knees, clutching to the gnarly roots of trees to pull ourselves up and we waded our way through an icy cold river full of sludge.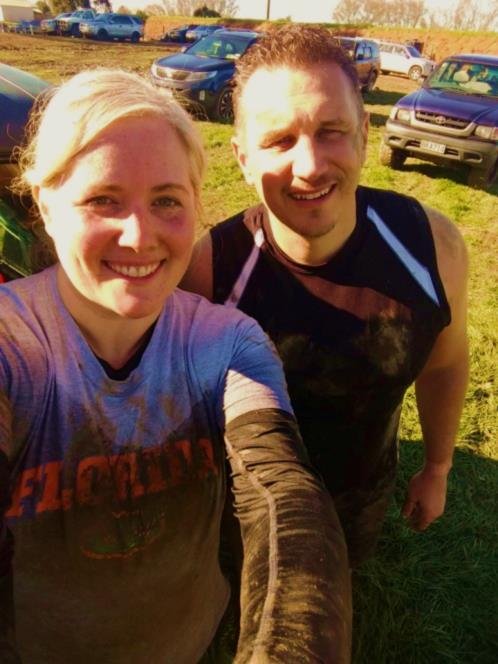 Having been Salvation Army Officers for 12 years, it is true to say that the two experiences are not dissimilar. We signed up, we trained, we dressed for the occasion and we showed up at the start line. Not long into it, we realised that it was going to be much harder than we had anticipated to endure and to complete. So, what keeps us going? What keeps me hopeful that the mission we have committed our lives to is still worth it all?
1. A personal commitment to completion and a sense of camaraderie1: On the mud run, I had to dig deep and keep putting one foot in front of the other. I had to keep thinking about the finish line and how good it would feel to complete the race. It helped that everyone around me was moving in the same direction. We were all moving forwards. We ran at differing paces, but together we had momentum and a sense of comradery. It's the same way with the mission of The Salvation Army. When I see others moving forwards with God and alongside us, I am encouraged and inspired to keep going myself. I was recently a delegate at the International College for Officers and came away inspired by the personal commitments not only of Officers, but of Salvationists all over the globe to keep working and moving towards the finish line. In the internationalism of The Salvation Army there is an opportunity to gain a greater sense of momentum and comradery, thereby inspiring missional hope.
<![if !vml]>
<![endif]>
International College for Officers Session 236
2. Experiencing and celebrating wins along the way2: I discovered on the mud run that I am not a great runner, but I can commando crawl like a boss! It is true to say that I found at least eighty percent of the race to be downright gruelling and arduous. The other twenty percent was exhilarating and I surprised myself at what I was able to accomplish. In living out the mission, there is a good eighty percent that is downright gruelling and arduous. I am kept hopeful by the twenty percent which is made up of the good surprises that God has in store for me along the way! One example of this is that, through Officership, I have discovered a purpose and passion for re-integrating social and spiritual mission. I have been delighted and surprised in each of our appointments as ministries have converged and the mission has advanced. In our current appointment, 11 Salvationists (including a Pacific Islander, a South African and a Zimbabwean), 3 retired Officers (2 Colonels and a Major) and 6 Christians (including a Kiwi/Papua New Guinean, 2 South Africans and 1 Botswanan) from other denominations have followed God's call to join our staff team to work in an integrated spiritual and social service context. Their "yes" to Gods call to sacrificial service keeps me hopeful that we are still called and empowered to be "Te Ope Whakaora" (Maori for The Salvation Army) which, when translated, means "The Army that brings life".
3. Race Marshalls to guide and cheer us on! At regular intervals on the mud run there were Marshalls to watch over us. They made sure that we followed the course laid out for us and shouted out words of encouragement to spur us on. I am kept missionally hopeful by leaders who do this for us. The Lord has strategically placed people in my life for a season to help me face particular challenges and get over hurdles safely. There are times when I've felt like I was going it alone, but just around the corner was another race Marshall waiting, ready to call out words of encouragement and motivate me to press on! I thank God for all the people over the years who have fulfilled that function in my life. They are ambassadors of hope!
4. The promise of relief and refreshment at the end of the race3: Before we set off, the announcer declared that there would be sports drinks, protein bars and showers ready and waiting for us at the end. Let me tell you, we needed the hope of that promise to keep us going when we were in the thick of it! When it comes to missional hope, there is no greater hope than the hope of heaven to keep us going. It is the promise of eternal relief and refreshment at the end of the race that I need to keep at the forefront of my mind when I find myself out of my comfort zone and having to dig deep.
Towards the end of the race, Marcus and I waded out of the icy river and climbed up the last hill towards the finish line. At the top of the verge, a crowd was gathered on either side of the ropes cheering us on. The announcer was there with his hand held out to high five us. He called out our names into the microphone congratulating us on our achievement. Exhilarated, we high fived the announcer and crossed the finish line holding hands, held up high in the sky, with a mutual sense of accomplishment, exhaustion and relief. It was worth it all!
Ultimately, what keeps me missionally hopeful is my belief that I will see Jesus at the finish line and He will be calling out my name saying well done Jen! I have an enduring conviction that it's truly going to be worth it all!
The Mission Statement of The Salvation Army New Zealand, Fiji and Tonga Territory:
The Salvation Army is an international movement and an evangelical branch of the Christian Church, which expresses its ministry through a balance of spiritual and social programmes. In its founding it was mobilised by God, and in its continuance is totally dependent on God for the power to fulfil its calling. Everything it does is as an offering to the glory of God and for the worship and adoration of God's name.
________________________________________
1 Hebrews 12:1-3 "Therefore, since we are surrounded by such a great cloud of witnesses, let us throw off everything that hinders and the sin that so easily entangles. And let us run with perseverance the race marked out for us, 2 fixing our eyes on Jesus, the pioneer and perfecter of faith. For the joy set before Him He endured the cross, scorning its shame, and sat down at the right hand of the throne of God.3 Consider Him who endured such opposition from sinners, so that you will not grow weary and lose heart." (NIV)
2 The mission of The Salvation Army in New Zealand, Fiji and Tonga is:
• Caring for people: Salvationists follow the example of Jesus by identifying with the needy, standing alongside them and caring for people in all situations.
• Transforming lives: Salvationists believe that God can transform people and that the resulting wholeness is experienced through belief in Jesus Christ and by the power of the Holy Spirit. This transformation is evidenced in discipleship and commitment.
• Reforming society: Salvationists seek to express the love and power of God in the community. This calls for the challenging of manifestations of evil, injustice and oppression, and for steps aimed at their elimination.
3 Rita Springer inspires this posture… 'Worth It All' by Rita Springer:
"I don't understand Your ways
Oh but I will give You my song
Give You all of my praise
You hold on to all my pain
With it You are pulling me closer
And pulling me into Your ways
Now around every corner
And up every mountain
I'm not looking for crowns
Or the water from fountains
I'm desperate in seeking, frantic believing
That the sight of Your face
Is all that I need
I will say to You
It's gonna be worth it
It's gonna be worth it
It's gonna be worth it all
I believe this
You're gonna be worth it
You're gonna be worth it
You're gonna be worth it all
I believe this"